Occupational therapy helps people with autism learn the necessary skills in order to lead a more independent lifestyle. People on the autism spectrum may struggle with sensory modulation difficulties, which can cause them to struggle in their life. Since occupational therapy focuses on motor, social, physical, and cognitive skills, it can help autistic people improve their quality of life.
Depending on where they are on the spectrum, an autistic person may be fully capable of living an independent lifestyle or they may be nonverbal and need a lot of help in their life. Here's what you need to know about how occupational therapy can help those with autism.
What Is Autism?
Autism spectrum disorder (ASD) is a developmental disability. It is caused by differences in the brain, not by vaccines. It is a lifelong condition that results in challenges with social interaction, repetitive behavior, and restrictive interests. Autistic people may pay attention, learn, and move in different ways than others.
The Spectrum
As the name implies, ASD is a spectrum. It can be classified in three levels, which range from least to most severe. These are not inclusive of all autistic people and their symptoms and needs, but it is helpful in diagnosing the severity of the condition.
Level 1
Some autistic people are very high-functioning. They may not say the right thing at the right time, have organizational issues, and may have trouble making friends. While they may have difficulty with social interactions and struggle to move from one activity to another, they can live independently and benefit from support.
Level 2
People with moderate autism have more obvious issues than those on the mild end on the spectrum. They tend to struggle with nonverbal communication and speak in more simple sentences. They usually have narrow interests and have difficulty moving from one activity to the next. They can engage in repetitive behaviors, such as saying the same time over and over.
People on the moderate part of the spectrum need substantial support.
Level 3
This is the most severe form of ASD. Like people with Level 1 or Level 2 ASD, they struggle with social interactions, hyper-fixations, and repetitive behaviors, but to the most extreme degree. They tend to struggle to speak clearly and rarely interact with others. They can find it very hard to function on their own and need a significant amount of support.
The type of support an autistic person needs very much depends on their specific circumstances and can change with time, as their skills either improve or their symptoms worsen.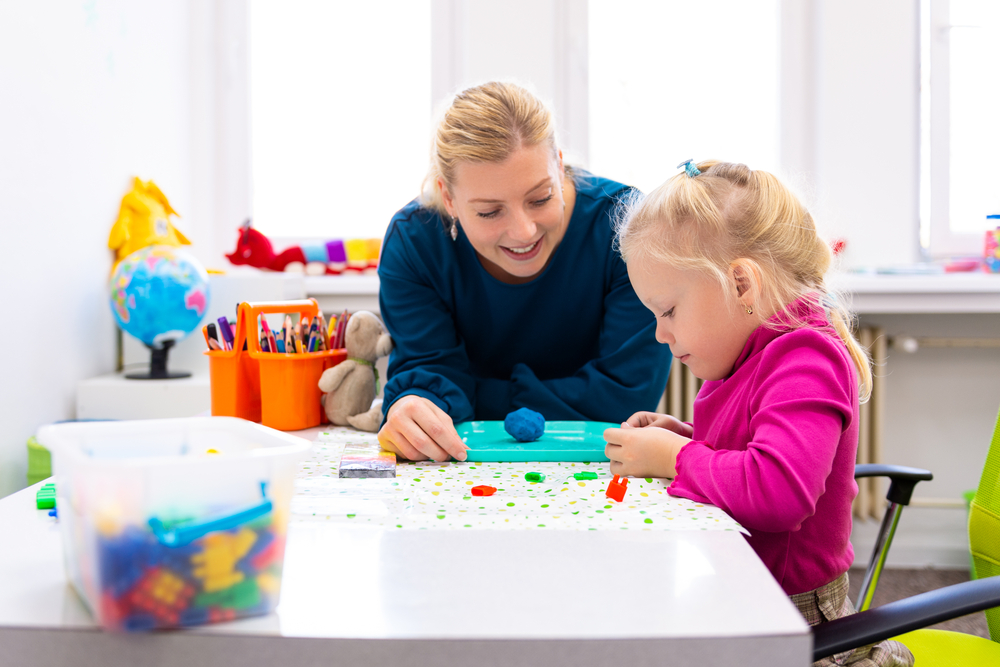 What Is Occupational Therapy?
Occupational therapy helps people improve their everyday skills with the goal of increasing independence. Occupational therapists help people with their physical, cognitive, and sensory abilities. They can help those recovering from injuries and those with disorders, such as Parkinson's or ASD.
This is a very individualized treatment plan. Occupational therapists evaluate the needs of the individual in order to best determine how to help them. This can range from working on key skills so that one can dress oneself or being able to regulate emotions and participate in social interactions.
How Can Occupational Therapy Help Those With Autism?
Occupational therapists use screening tools and diagnostic criteria in order to evaluate an autistic person's needs. They'll look at social, communication, sensory, cognitive, and motor skills. Once they know the person's developmental needs, they'll be able to come up with a treatment plan to address them.
Occupational therapy helps both children and adults with ASD. Early treatment can help autistic people live a more independent lifestyle by helping them become more organized and regulated. They can help with issues such as sensory overload and social interactions.
Occupational therapy works on developing skills needed for daily living, as well as removing barriers to learning by targeting sensory processing differences. This helps autistic people become more focused and calm.
Occupational therapists can help people successfully participate in their communities and are suitable for any stage of life.
Types Of Therapies For ASD
Some of the interventions occupational therapists use include:
Motor development
Sensory integration
Self-regulation strategies
Social participation activities
Cognitive-behavioral approach
Visual supports
Strategies for personal responsibility
And more
Given that autistic people's needs vary a great deal, it's helpful to have a type of therapy that is so individualized.
Occupational Therapists In Layton
Wasatch Peak Physical Therapy provides occupational therapy services in Layton. Contact us today to learn more about our services and how we can help you and your loved ones improve your quality of life.